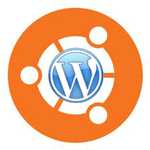 Putting wordpress on your own internal server is a really great way to play/learn/tweak/develop/mess with wordpress without publishing your trials and errors to the internets.
I used Ubuntu Desktop version (instructions) and then installed Apache, MySQL, and PHPmyadmin from the Ubuntu Software Center
Detailed WordPress install instructions.
There are a couple of hurdles you'll have to clear before you get full functionality though. Following will be a list as I trip, research, and overcome the issues.
Resolving hostname – Problem: Unable to see my internal intranet website or server using the servers name (hostname) in the browser.  Solution:  Install Samba from the Software Center. Poof, fixed! Samba broadcasts the machine name over the network allowing file and print sharing.
Updating / Installing – Problem: Your server will not update or install Themes or plugins Solution: Install and turn on FTP.  I suggest using searching the Software Center for SFTP. Also a good idea if you want to ftp files from another computer on the network.
Permalinks– Problem: You go to the Settings > Permalinks section and choose any of the available permalink structures and completely break the links to your content. Your homepage will be fine but you'll get a 404 error when you click on posts. Solution: Enable Modrewrite. I used this article at HowToForge
Email – Problem: Your install doesn't email you new user info and non of your plugins can send you email. Solution: Install Postfix (not Sendmail) through the Software Center. During the install you'll enter your preference of server type (the first one on the list) and your hostname (the name you assigned to your server) and you're done. At least I was and email began to flow.